Exhibition: "The City Is Open Source" in "Galerie im Park Viersen"
(en;de)
Repost from The City Is Open Source 
Update: The Original-Posting is updated. Go to it. /  Das Original-Posting is ergänzt und erweitert. Ansehen.
_
DE: Da ich bisher nur selten physische Objekte produziert habe, hatte ich auch noch nie eine wirkliche Ausstellung. Aber "The City Is Open Source" wurde im Rahmen des Projektes "Stadtbesetzung" von der Galerie im Park Viersen eingeladen, sich an einer Urban-Art-Ausstellung zu beteiligen – eine gute Gelegenheit, mal etwas für eine Ausstellung zu gestalten. / Hier einige Eindrücke von der Ausstellung und Dingen drumherum.
Alle Bilder werden größer, wenn man draufklickt. Alle Bilder auf Flickr. 
EN: As i haven't been an artist that creates stuff in the past i never really had an exhibition in my life before. But when i set up the project The City Is Open Source and became part of the Stadtbesetzung project i was asked by the Galerie im Park in Viersen to become part of their urban art exhibition and i said, yes, of course, let's do it! / So here are some impressions from the exhibition stuff around it.
All images will enlarge when you click on them. The set on Flickr.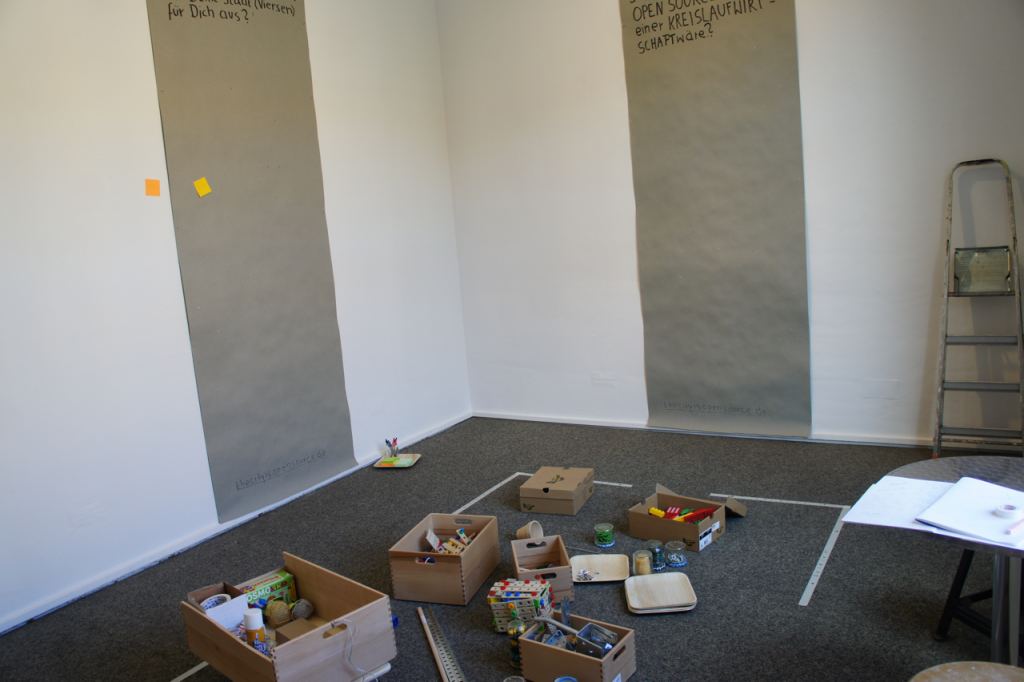 DE: Ich habe im Grunde einen Hauptraum, in dem ich eine Repräsentation der Website von The City Is Open Source gebaut habe und die fast vollständige Toolbox hingestellt habe, zum spielen. Ich werde am 12. September zurück sein in Viersen für einen Workshop und kollektive Aktionen. Dann werden wir den Raum bespielen. Aber vielleicht werde ich ja überrascht und Besucher haben schon einiges gebaut und auf die Wände geschrieben, wenn ich komme.
EN: I have basically a main room where i created a physical representation of the website of The City Is Open Source and let almost the whole Toolbox there to play. I will be back in Viersen on September 12 for a workshop and collective action. Then we will use this room. But maybe i will be surprised and visitors already have played and built stuff and have written at the walls.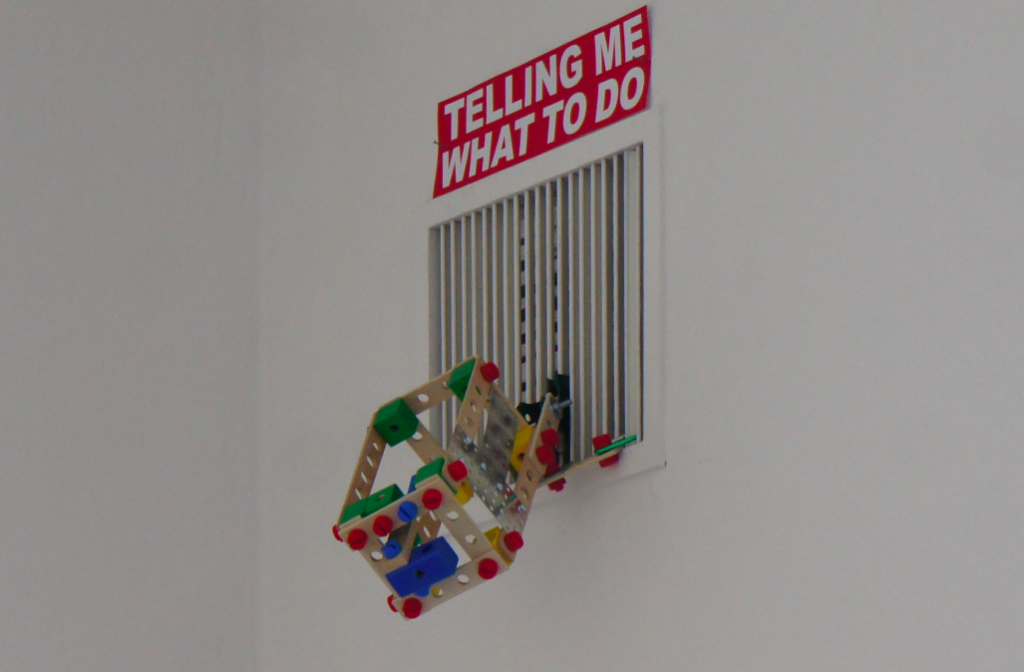 EN: The surveillance cam I built and we combined it with a big sticker that was part of a work by the Viersen based artist Garvin Dickhof who is also part of the exhibition.
DE: Um mich mit dem Raum anzufreunden, habe ich erstmal eine Überwachungskamera installiert und zusammen mit dem Viersener Künstler Garvin Dickhof, der auch in Teil der Ausstellung ist, kombiniert mit einem Aufkleber aus einer seiner Arbeiten.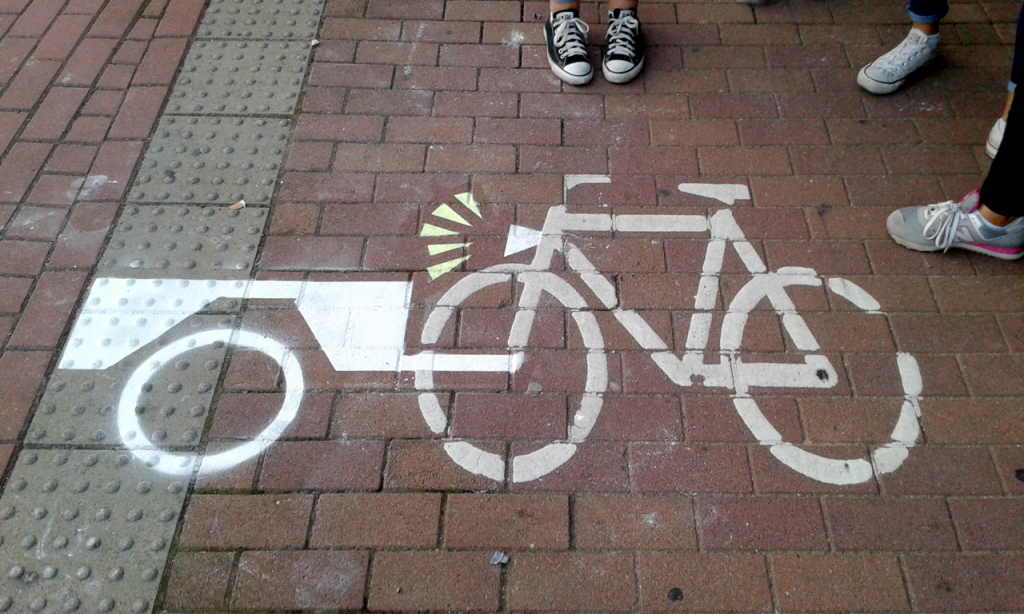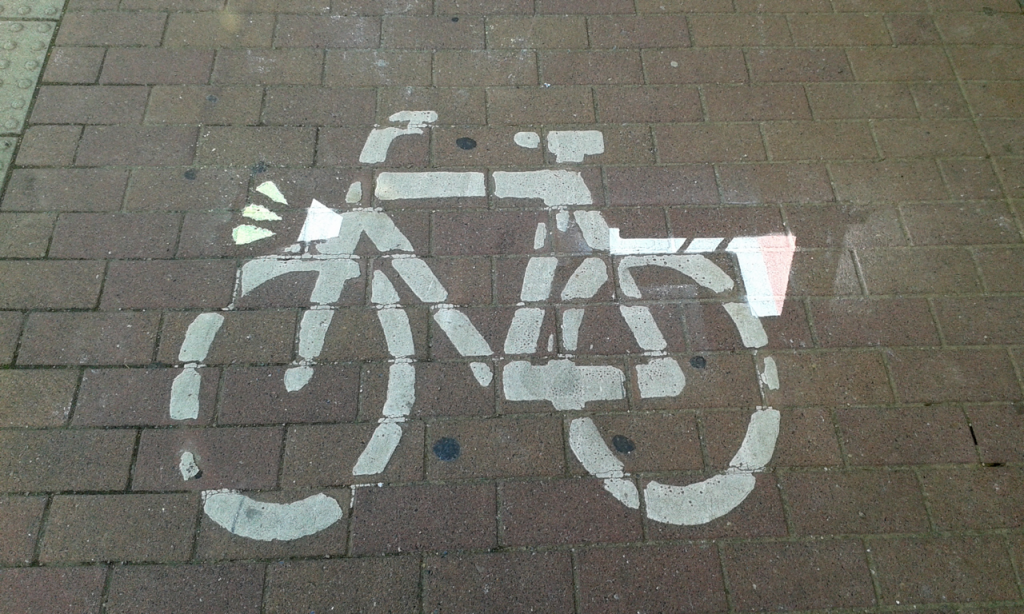 EN: We created next to the gallery new editions of the cargo bike hacks this time with spray-chalk and not with tape. The work was mostly done by the super cool construction helpers David S., Mischa L. and Christian P., who became very creative and invented the awesome editions of the lamps!
DE: In der Näher der Galerie haben wir Neuauflagen des Lastenradhacks erstellt diesmal mit Sprühkreide. Die Arbeit wurde wesentlich von den supercoolen Aufbauhelfern David S. Mischa L. und Christian P. gemacht, die die Arbeit weiterentwickelt und die Lampen dazuerfunden haben.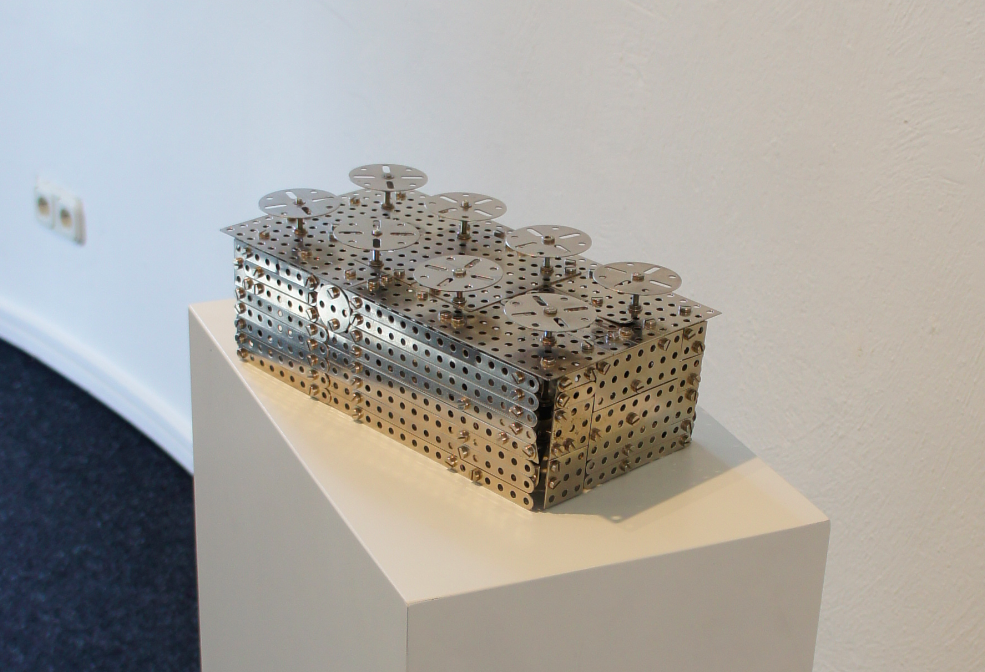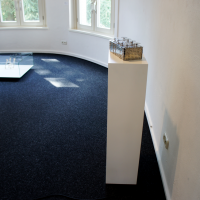 EN: Not street art but the Lego Brick is shown as well in the gallery. Btw. think I never mentioned it, but you can buy that peace of art via the Shop Mifactori.
DE: Keine Streeart aber der Legostein ist auch Teil der Ausstellung. Nebenbei: Ich glaub, ich hab es nie erwähnt, aber den kann man kaufen über den Shop Mifactori.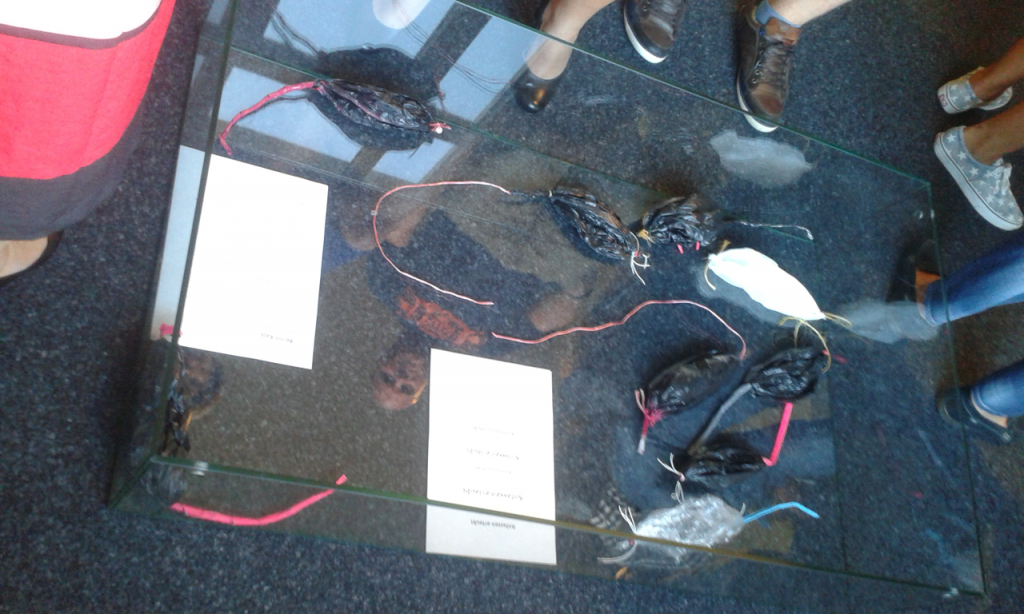 EN: The Berlin Rats are Street Art but do not belong to The City Is Open Source. But they are shown as well. With a longer description (in german).
DE: Berlin Rats ist ein Streetart-Projekt, aber es gehört nicht zu The City Is Open Source. Trotzdem ist es ausgestellt in einem anderen Raum, mit einer kleinen Beschreibung.
EN: In front of the entrance of the gallery. With a revival of the highlighted ones.
DE: Vorm Eingang der Galerie. Mit einer Wiederaufnahme der markierten Schrauben.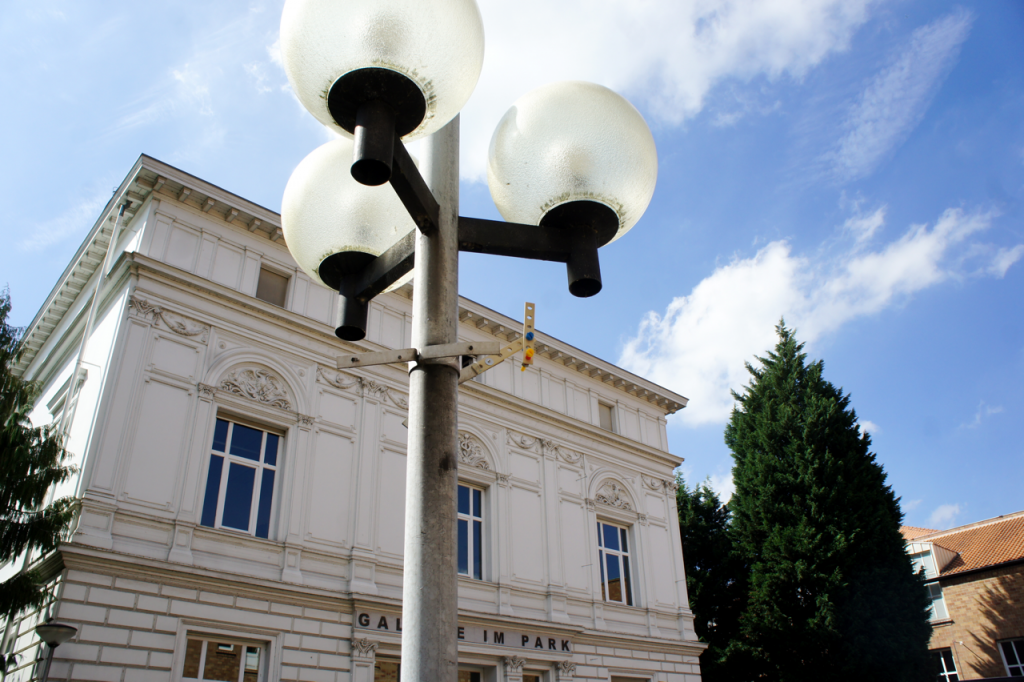 EN: This is just beginnings. Public sketches for ideas I will come back to later, probably.
DE: Nur Anfänge. Öffentliche Skizzen für Ideen zum später aufnehmen.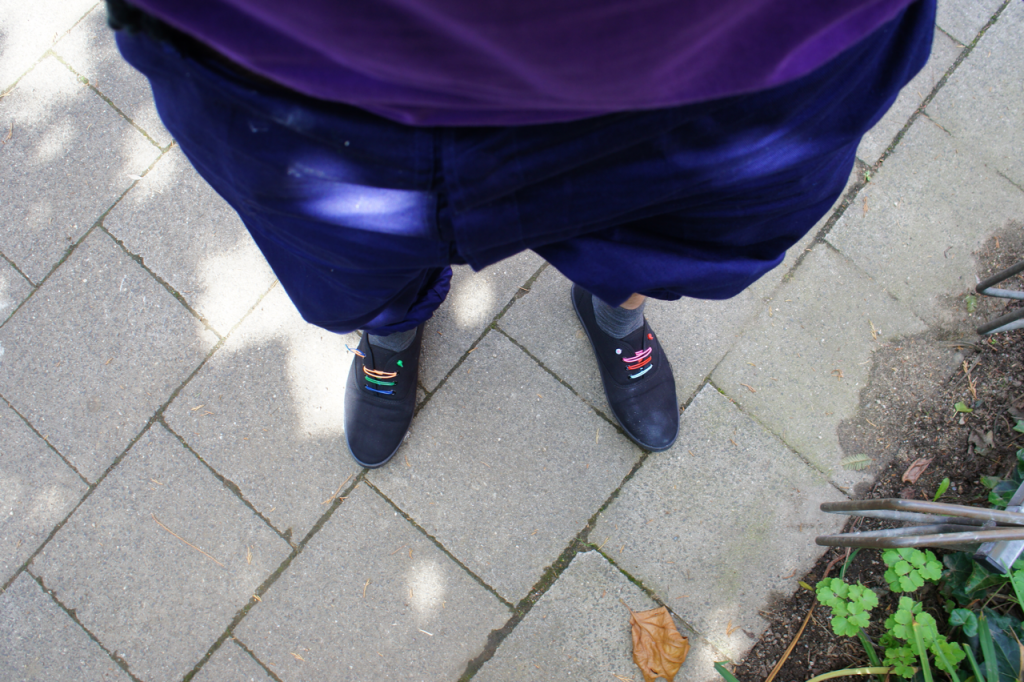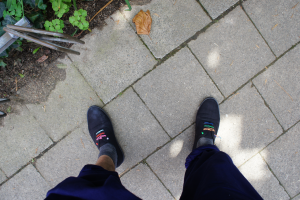 EN: That's how i perform the urban artist in german province.
______
EN: After the opening some of the artists went out for drinks and we had an incredibly great night in Viersen. We found a greek party happening in the pedestrian zone dancing Sirtaki on the street in an amazing crowd during the night. You can see some of the other artist in the press photo from the opening here and read about their work in the article.
And here is the exhibition flyer (very nice!)
Thanks for setting up the exhibition Jutta Pitzen and for inviting me.
DE: Nach der Eröffnung gingen einige der Künstler was trinken und wir hatten eine gute Nacht in Viersen! In der Fußgängerzone gab es eine Party der griechischen Community und wir haben in großartiger Gesellschaft Sirtaki getanzt lange in die Nacht hinein. Einige der anderen Künstler kann man hier im Pressefoto sehen und über ihre Arbeit im dazugehörigen Artikel lesen.
Und hier ist der Ausstellungsflyer (wirklich schön!)
Vielen Dank für die Organisation Jutta Pitzen und für die Einladung!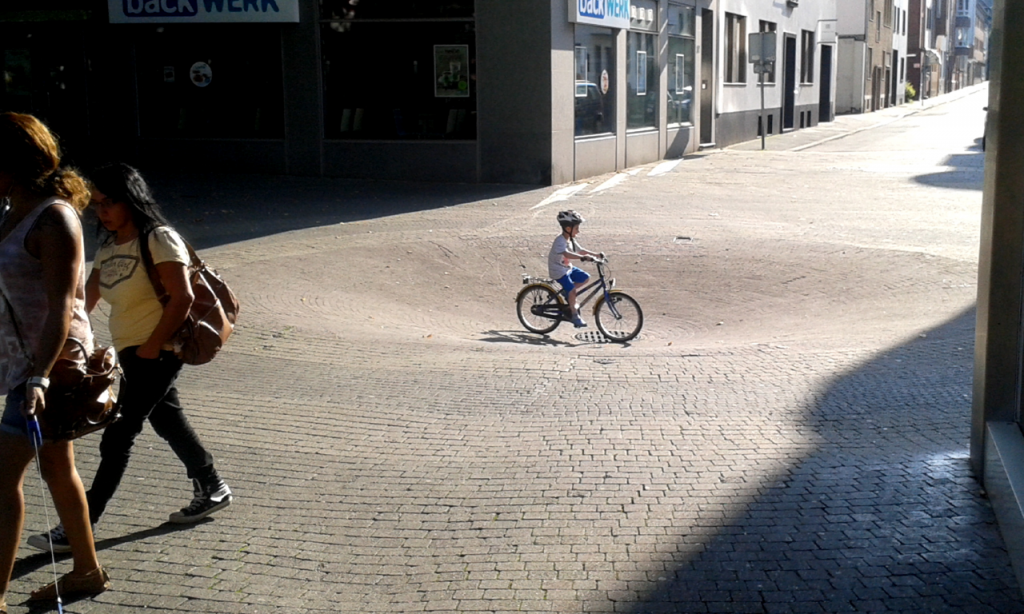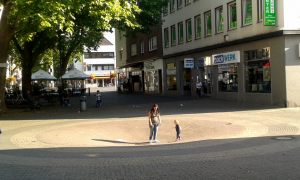 EN: Btw! I was really impressed by the city Viersen! The best mid-size german city I have ever visited. The city is beautifully designed in many areas, has great people and a lot of art in public space. Take a look at this amazing thing as an example on the picture above. This is in the center of the pedestrian zone! I have seen a lot of people playing with it for example an approximately 50 year old lady doing the same thing as the boy in the picture while driving top speed! The city as a playground.
DE: Übrigens: Ich war wirklich beeindruckt von Viersen. Die beste der mittelgroßen deutschen Städte in der ich je war! Die Stadt ist an vielen Stellen schön gestaltet, hat tolle Bewohner und eine Menge Kunst im öffentlichen Raum. Das Bild oben zeigt ein Beispiel dafür, wie gut die Stadt ist. Ich hab eine Menge Leute mit diesem "Krater" inmitten der Fußgängerzone spielen sehen, z.B. eine ungefähr 50 jährige Dame, die mit ihrem Fahrrad durch den Krater gefahren ist wie der Junge auf dem Bild mit hoher Geschwindigkeit! Die Stadt als Spielplatz!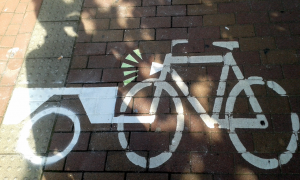 _____
IMAGES: All images by me – Lars Zimmermann – and licensed under CC-BY! You can download them and more from this exhibition here.